Back to Blogs
Whole Wheat Hakka Noodles Recipe with Ching's Chow Mein Hakka Noodles Masala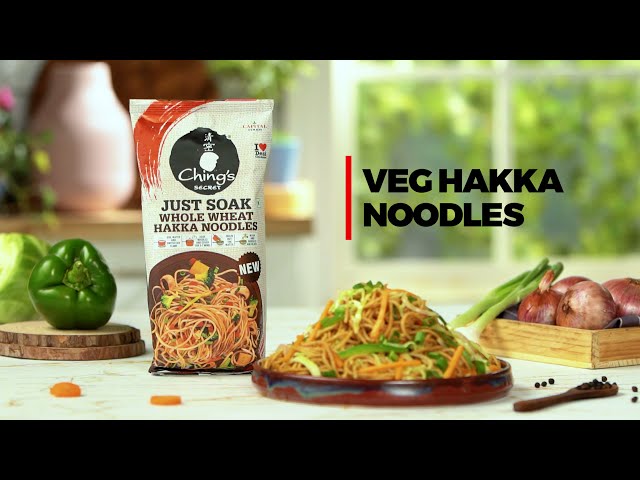 Ingredients In Wheat Hakka Noodles
•      1 pack (150 gm) Ching's Just Soak Whole Wheat Hakka Noodle.
•      1 large carrot 100gms, sliced.
•      100 gms cabbage, sliced.
•      1 large red pepper 200 grams, sliced – can use a mix of green and red.
•      3 stalks green onion chopped + more to garnish.
•      4 tablespoon sesame oil.
•      3 teaspoons minced ginger – garlic.
•      1 pack Ching's Chowmein Hakka noodle masala.
Cooking Instructions:
Prepare the noodles:
1.  Boil 5-6 cups of water in a Pan. Switch of the flame.
2.  Soak the noodles in water. (Either pour the hot water on the noodle cake or gently put the Noodle cake in the hot water).
3.  Cover and let it stand for 5-7 minute. Do not Cook/Boil the noodles.
4.  Drain the water and wash the noodles under running water
5.  Noodles are ready for further use as required.
Prepare the dish:
1.  Heat the sesame oil in a pan.
2.  Put the minced ginger – garlic in the pan and sauté it.
3.  Put the chopped mixed vegetables in the pan and stir fry it for 2 – 3 mins.
4.  Put the soaked Ching'sJust Soak Whole Wheat Hakka Noodle in the pan with vegetables.
5.  Add Ching's Secret Chowmein Hakka Noodles Masala.Sprinkle 2 tablespoon of water.
6.  Mix well and stir – fry for 3 – 4 minutes.
7.  Garnish with chopped spring onion and serve hot.